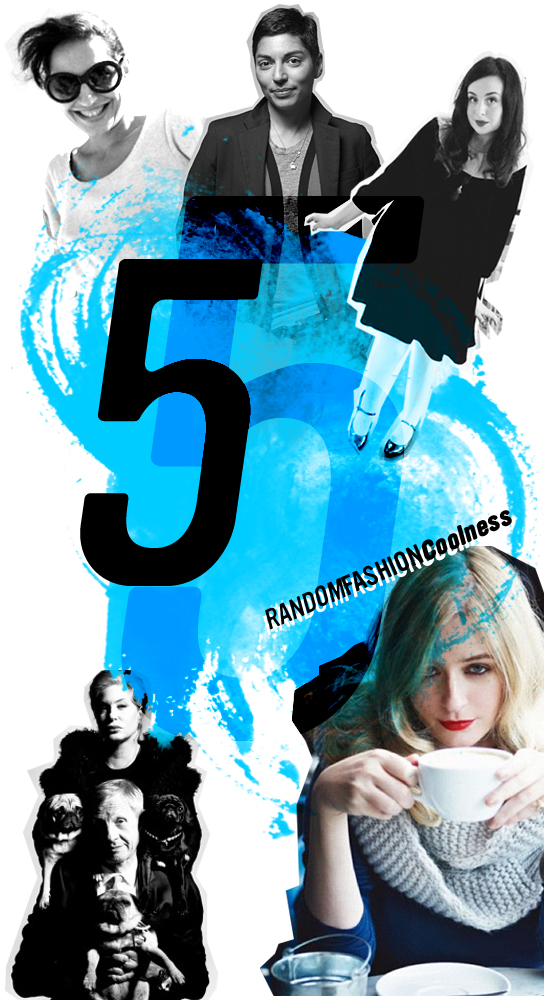 Yesterday, this little blog of randomness turned 5. I tried to put together a post about other things that turned 5 on the 20th but didn't get far. I also considered taking a more cliché route and compiling an, "on this day in history…" but ceased immediately on discovering Gary Barlow and Ivana Trump share the blog's birthday. Instead, I wanted to post about the people that have helped me immeasurably on my way. Let's start at the very beginning.


Via a web of confusion on Twitter when I misinterpreted Brix's fear of ghosts, for one of goats (a LONG story) I ended up at START London where Brix invited me to interview her. Brix's support, warmth and openness led to many exciting opportunities; so to Brix, I will always be indebted. She also introduced me to the inimitable and talented Felt Mistress, with whom I now share a firm friendship.
(Image courtesy of SHOW Studio. See the amazing short film showing the making of the photograph)


Navaz has extended to me kindness beyond that of which I deserve. She has offered me advice on innumerable occasions, met me at press days, fashion shows and events, that I would have attended with trepidation if it weren't for her kind support. She is my official guide through the maze that is the blogosphere. I'm so glad I don't have to keep her identity a secret anymore.
Disney Roller Girl (Image courtesy of The V&A Museum)


Sasha chose to use an image on her blog that I created for a post about identity. After many years of anonymous blogging, Sasha took the bold step of revealing her true self and I felt honoured that she chose one of my little pictures to write about it on LLG. At my first scary London Fashion Week, she literally took me under her wing…well, swept me up into her Mercedes Benz. She helped me navigate the chaos that is Fashion Week and kept me going on a diet of wasabi peas!
Liberty London Girl (Image courtesy of Grazia and Diesel)


Likewise, Laetitia helped me immeasurably when I was first starting out. Her many emails and words of advice helped the indecisive me to be a little more discerning and definitive in my choices. At my first London Fashion Week, she waved spare tickets at me and introduced me to many other wonderful bloggers. Although we aren't in touch as much any more, I'll always be grateful for Laetitia's support.
Mademoiselle Robot (Image – Laetitia's own)


Where do I start on this one? Kiki is an absolute gem. I first met her in a whirlwind of unfaltering organisation with Liberty London Girl at London Fashion Week. She has since gone on to show me great kindness in both my personal and professional life. She introduced little Mr. Miro to the joys of Gap's basics and is always in touch inquiring as to our health, happiness and general mental state in the chaos of parenthood. I'm so pleased Kiki is on the Glamour team and being recognised for her loveliness by a wider audience.
Kiki's Delivery Service (Image – Kiki's own)
I also need to thank Susie of Style Bubble fame, Joe and Katie from What Katie Wore (sad but understanding of the blog's end) and uber-writter Ellen Burney (her previous blog was Vagabondiana.) Without their kindess (and blogroll!) my traffic would be and would have been, MUCH lower!