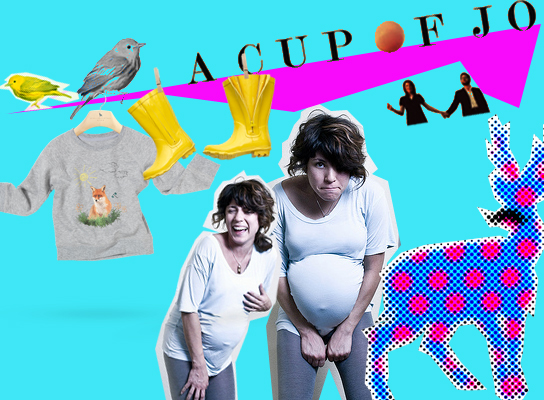 During my gestation period the internet has offered me some new avenues in which I have found solace, tears and happiness. I just wanted to share them with you, be you pregnant or not, as hopefully they will send a little joy your way too.
The first is A Cup of Jo. Uber blogger and freelance journalist Joanna Goddard's blog took a different turn when she became pregnant. The story of her pregnancy and the subsequent birth of her son Toby, intersperse her regular posts. She writes with such heart and honesty that you can't help but be touched. Her birth story had me in tears by the end; although I should prefix that fact with a warning that a Tampax advert had me in tears a few week ago! But seriously, Jo's blog is well worth a read. She updates twice daily with musings on New York living, loves on the internet, great shopping advice, as well as an insight into her life with husband Alex and son Toby.
The success of Stella McCartney's junior range for Gap has spawned her first eponymous collection for kids. The clothing is still a little overpriced in my opinion but it is aspirational and pretty cool. The stand out items for me have to be these Tammy rubber boots in sunshine yellow. My little one's yet to grace this world but I'd already love to buy him a pair of these Paddington-esque numbers for when he's a toddler.
A second blog that I enjoyed perusing is Pacing The Panic Room. Photographer and blogger Ryan Marshall devoted The Belly Pictures Series to wife Cole and her pregnancy. Each week, wearing a different piece by American Apparel, a photograph was taken of Cole's expanding bump. Each photo was then personally annotated by Marshall with the series culminating in a time lapse video. The whole series seems to perfectly illustrate this period of love and literal growth in the couple's relationship.
Last night Mr. Things of Random Coolness showed me a little video on Vimeo that knocked me sideways. With just 11 "official" days to go in my 40 weeks, the nerves have definitely begun to kick in. I knew this day was on its way, that it was inevitable but all of a sudden it seems all too real. Raymond and Jennifer Jones made this beautiful video, A Pregnancy by The Joneses, to document their pregnancy for their son Jules. I was crying 11 seconds in, as their very personal journey unfolds.
I hope these very pregnancy-centric gems offer some happiness to you too. I shall keep you informed as to our progress over these last few days. Hopefully there'll be time to relax and blog some more before the official release date!