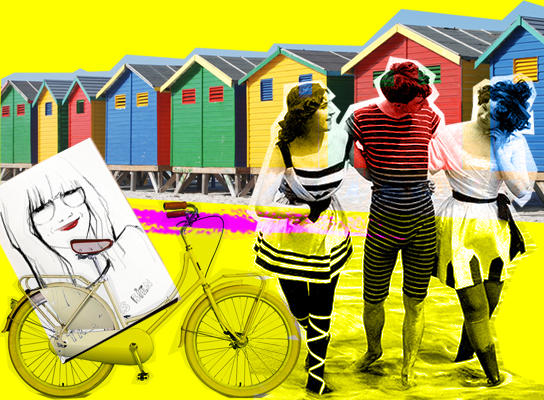 I adore summer; 'tis my favourite season of the year (most would agree as our fair isle gets flooded with more light* than usual) As the light increases my pallid skin starts to crawl slightly. I'm not built for this weather. I was created in a Gollum style mode; meant for damp and darkness. I tan EVER so slightly (after 6 months!) and the required effort often doesn't feel worth it. I freckle in the heat of a log fire, the sun catalyses this process waaay too much. From a distance, I may look tanned; up close, the freckle feast is revealed.  I am also not a porcelain-skinned beauty. My paleness unfortunately equates to sickliness. I cannot tell you how many times I have been asked recently if I am, "feeling 100%?" Please do not extol the virtues of fake tan to me. I have tried and failed with many brands. I refuse, point blank to remove all clothing and be sprayed like a Cuprinol-ed fence by someone I probably babysat for 15 years ago! Instead, I mask my pallor with bright clothing and prints. Unfortunately some days I may leave the house looking like a Magic Eye construction, but this confusion on the retina seems to work for me.
A second thing that summer brings is a proliferation of hair growth. I have fine, light hair but Jesús Cristo does the sunlight speed up growth. I wax my underarms and legs but summer regrowth occurs approximately 3 days later! Regrowth for me brings with it a beautiful heat rash and ingrowing bewilderment. I saw someone questioning on Twitter why anyone would wear opaque tights or leggings in June? My excuse – I am averting the eye from my wax nightmare! Garance Doré offered a very honest post that included her appreciation of laser hair removal. I would LOVE to offer this gift to my underarms but I still cannot justify the expense (I think each leg would cost £2000  too – I am quite tall!)
To balance out this post, I must convince you that I do love summer in some way!
1. I adore eating outside. Even if it is just a sandwich in the garden, the meal seems infinitely more tasty and exciting al fresco.
2. The beach makes me smile. A winter beach conjures up morose images of melancholic days; the summer beach, makes me smile even from a distance. The waft of saline air must release huge amounts of serotonin in my little brain; as I find my cheeks hurt through all the happiness.
3. I love the freckles. I secretly moan about them but they make me, well, me! I once played join the dots with them and made an awesome giraffe on my arm.
4. BIKES. I love my bike and the summer means he gets a good airing. I do have a bike obsession though. I am going to purchase a beach cruiser from my cousin but have spent several hours redesigning this beauty from Urban Outfitters. Bikes appeal to me a lot more than shoes. Luckily their price curbs my ownership to one pair!
If you have any advice to ease my very trivial summer woes, I would greatly appreciate it. Is there a light self-tanner that doesn't make you vomit? A hair removal idea that has worked for you? I am sitting with my pad and pen ready to make summer that little bit better.
(*light does not always equal sunshine!)
Beach hut image from Paul Mannix on Flickr. Illustration (left) Garance Doré