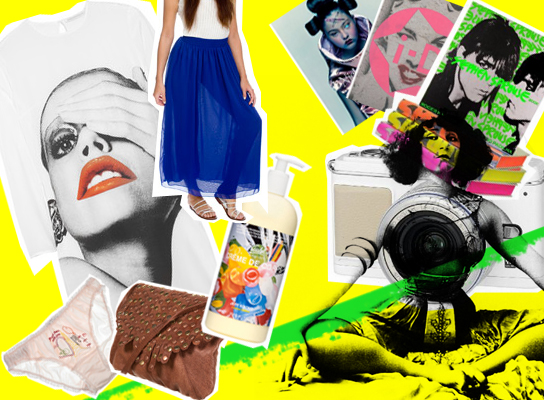 As I sit here, nine months pregnant, covered in chicken pox and nursing an accompanying cold, my thoughts have wandered into the realms of Christmas gifts. I'm yet to begin shopping for others and my own "needs" pale into insignificance against our priorities for the approaching little one…but many people have asked for ideas for their loved ones. I've tried to compile a list, with the brief of, "most females I know" in mind. I would love you to add your own ideas in the comments section as this would be most helpful for the readers that are searching for that often elusive special gift.
The List:
In my collage, right to left:
The Stephen Sprouse Book by Roger Padilha – The spine alone would look great on any bookshelf
i-D The Covers 1980-2010 by Terry Jones – See all the iconic cover stars in one place
Nick Knight by Nick Knight – A collection of his intoxicating photography
Olympus Pen Camera in white – A functional, yet beautiful piece of photographic equipment
Kiehl's Crème de Corps by Jeff Koons – If you're a fan of this luxuriant body lotion, treat yourself to this limited edition bottle
American Apparel's Chiffon Skirt – I'm personally a fan of the cobalt blue and the port
Topshop leather stud fringe bag – I thought I was over the stud trend but this sucked me right back in
Richard Nicoll's Linder Sterling face print dress – Spare £410? A perfect "investment" piece
Stella McCartney Paris tourist brief – A luxury piece of underwear gains many browny points
Not pictured:
Henry Holland Paris tights – Do you notice a recurring city theme?
Topshop shirt and shorts combo (must be worn together)
Uniqlo Merino Cashmere Crew Neck Sweater – The perfect warming layer
t.b.a. Pom-Pom dress – Anything by t.b.a. will actually do
ASOS floral leaf playsuit – cute and functional
Zara floorlength marl dress – Perfect for layering (see Uniqlo sweater above)
Topshop skeleton leaf maxi skirt with their antique embellished collar
Louise Gray silk dress – Spare change after splurging £410 on the Richard Nicoll? Then this is a must have.
There are so many more coffee table books I could add and I'm aware my list is severely lacking jewels, art, shoes and perfumes, which always seem a little more personal. PLEASE add any of your suggestions in the comments box; think of it as charitable Christmas advice for others. I hope these little personal glimpses may offer some inspiration. I treated my iPhone to a little gift today from Liberty of London, a little red sleeve in its eponymous print (see the whole gorgeous range here)