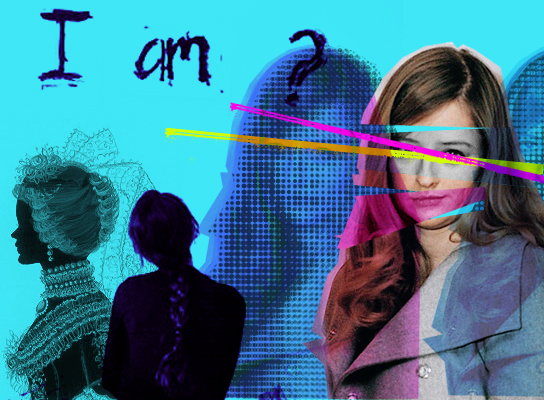 As I sat waiting for the new Grazia to land on my doorstep and reveal the "real" Liberty London Girl, I was left contemplating the concept of identity. I spent today sat in my flannelette pyjamas, with an old ski hoodie and M&S f-UGG slippers. Is this who the readers of my blog perceive me to be? I remember chatting to the lovely Catherine Kallon, the creator of Red Carpet Fashion Awards. At the time GMTV had asked Catherine to follow her around for a day, watching the creative process as she blogs. Catherine told me, "I don't want them to see me get up at the crack of dawn, lumber over to my desk with a coffee and blog in my PJs all day!" I remember thinking how refreshing it was to hear that her reality of blogging was very similar to mine; despite the fact that GMTV believed it to be very different. The irony now is that Catherine now has an office from which she blogs full time and an extremely hectic but enviable lifestyle.
Anonymity in the blogosphere is quite commonplace as it allows the freedom of speech that open magazine journalism often curtails; not through desire but necessity. The last thing a magazine wishes to do is anger their advertisers. The revenue they bring in is essential to the existence of any magazine. I've been forced to ask myself of late if the thin veil of anonymity makes me immune to any influences and totally free to speak my mind. The answer, truthfully, is no, not really 100%. If a brand invites me to a lovely meet-up, which I subsequently write about disparagingly, do you think they'd ever invite me in my blogger guise again? If I want to remain in the loop, at times my opinions must be censored. I haven't yet been forced into that situation as I have chosen instead to remain positive and only write about the experiences I have enjoyed.
How does knowing Liberty London Girl's true identity change her blog for you, or does it change it at all? For me there is no difference as I do not know Sasha personally (yet.) For those who work or have worked with her, without knowing her nom-de-plume and her online persona, today will have come as a shock. I don't think that simply because of what she has written, but because they weren't privy to this important part of who she is. Very few people with whom I work or am acquainted know about my blog and I feel that this would be the element of shock for them. My Mum used to think a blog was a part of an online gaming community. When I sat her down and showed her the blog last week, she said, "Who does the pictures for you? Who publishes the articles? What magazine do you work for?" I think her shock lay in the fact that I could be so independently productive!
I too today was forced to verify my own identity. As a "semi-anonymous" blogger most of my work is annotated as Random Fashion Coolness. I spent a glorious 6 hours (not in a row; emails back and for) trying to prove that my real name was associated with my blog. Eventually I managed to demonstrate that I was…well, myself!
Therein lies what I love about the bloggersphere. It's not who you are but the contribution you make that is judged. It doesn't matter whether you're a magazine editor, a housewife, a full-time blogger or a business professional. Your blog is your persona and your opinion and work is what is scrutinised and respected, not your salary or perceived standing within the industry.