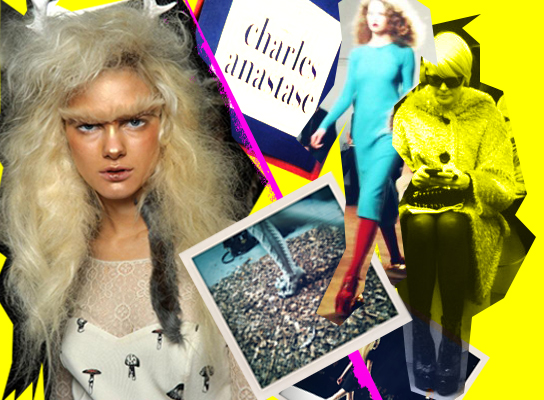 Today was a strange one. A. It was hard to wake up after a busy first day. B. A different set of people seemed to descend on Fashion Week. My collage today is chaotic…I feel it sums up the day pictorially! Here's a brief rundown, photos to follow tomorrow.
Charles Anastase – Situated in South Molton Lane in the lofty coolness of The Music Rooms, the feel was very different from the get go. A much smaller, intimate event ensued, with a different set of people from day one. Firstly my girl-crush, job/look envy idol arrived – Kate Lanphear. Then the equally iconic, for very different reasons, Diane Pernet, complete with her lofty veil. I squished in next to the gorgeous Jackie Dixon (Show Me Your Wardrobe,) gossiped for a while, before the treat of a show began. Fabrics were mixed; felt, wool, colour-block, bows and ruffles, all completed with vertiginous heels. I loved the whole show. the layering and various materials felt opulent, yet accessible.
Kinder Aggugini – There was mohair (Disney Roller Girl's wool of choice ;) military with bold flashes of red, painted black hair and most hauntingly, Kate Bush on the soundtrack. I loved the way the tiny flecks of wool dazzled in the light behind the models. Could I photograph it? Unfortunately, no!
Topshop Unique – This one deserves a whole post of its own and shall get it soon. Prior to Fashion Week, there was no Topshop ticket for me. Speaking to lots of other bloggers, Topshop was an elusive ticket to find. I'm not sure what the criterion for ticket allocation was but it seemed sporadic among bloggers. Liberty London Girl and Kiki's Delivery Service persuaded me to come along, despite my lack of ticket, to see if there was any chance of entry. This is where the "who you know" in the industry came into its own. Sasha (LLG) knew someone working at the door; that was enough, a front row for me. I shall save the experience and the show review for that dedicated post. Needless to say I felt like a fish out of water and in hindsight wish I'd called some of my fellow, more deserving, blogger friends to take my place.
Emilio de la Morena – Another kindly donated ticket from Sasha (I think I owe her A LOT of drinks!) Julia Restoin Roitfeld and Olivia Palermo followed over from Topshop and a beautiful show began. The soundtrack was phenomenal. I filmed parts of the show just to find out what the track-listing was later. The hair was backcombed on the crown and held in place using what looked to be tens of kirby-grips and bobby pins. Ankle socks teamed with phenomenal boots, beautifully matched the coloured prints and sculptural dressed.
Louise Gray – Presentation. The lure of finally meeting Fred Butler and the fab company of Disney Roller Girl persuaded me to head to Louise Gray (not much persuading was required ;) The presentation was in a gorgeous space in the Portico Rooms. The styling and arrangement of the room was perfect, with an open balcony space overlooking the Thames. Brix Smith Start and Fashion Editor at Large were in attendance, adding to the fun. The models posed around and about the cut-out frames on which the clothes were hung – head holes for comedy photos were optional. The eyebrows deserve a blog of their own!
And there ended my day. There was going to be more, but exhaustion kicked in and the train home beckoned. That is also it for my Fashion Week. The "real" world of work resumes on Monday so tomorrow may be a day of complete contrast – total nothingness in PJs. That seems a phenomenal choice right now as my train trundles home at an inordinately slow pace but tomorrow I shall be envious as the fashionistas continue to report.  One definite task for tomorrow is photo and video uploading. Those of you that follow my Twitter will have seen some of my Polaroid offerings. There's a slew of them to follow, plus higher quality images and videos. My mini-Fashion Week, you have been kind to me, I shall hold fond memories of A/W 2010.
(All photos in the above post belong to me EXCEPT the large image far-left which comes from Topshop's Facebook page)