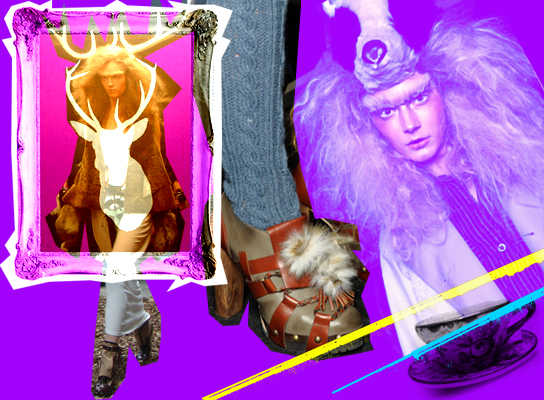 There were a few stand-out shows for me this London Fashion Week. As the last 7 days have passed, I have had time to contemplate and ask myself why they appealed to me so much (and if they still did, post-buzz of LFW.) One of the shows that still stands out in my mind is Topshop Unique.
The first thing that hits you is the show space itself – Topshop masterfully commandeered the former Flower Cellars of Convent Garden. You descend from the yawning openness of the white-washed entrance, down a subterranean path to the dark depths of the catwalk.  The Hospital Club showcases the empty vastness of the vacant space REALLY well. Adjacent to the catwalk is the Topshop Café, a bustling hive of activity pre-show. There's food (praise be during Fashion Week!) champagne, drinks and a general atmosphere of calm and joviality that I didn't feel at the other shows as I waited in the queue…outdoors! Garance Doré wrote a whole little bit of wonderfulness on the Café, which I won't try to top (see the post here.)
Once the show threatened to begin, the usual hive of activity was stirred up. A listers galore began to arrive and an even more frenzied round of flashing and papping commenced. Front row highlights for me included Kate Lanphear, Scott Schuman, Alexa Chung and Julia Restoin Roitfeld. Lorraine Candy from Elle was sitting just opposite me and I had to restrain myself from running over and gushing about her amazing Twitter tweets!
So to the show. For a start it was, well, a SHOW. Every last detail of the theme had been considered. The catwalk was strewn with leaves. The archways were adorned with woven bracken. It was Where the Wild Things Are meets Girl Scouts, meets Little Lord Fauntleroy. There was a sense of "Lordy" elegance coupled with the dirty outdoors. Do any of you remember the show The Box of Delights? That for me was a resounding inspiration. I found the eerie opening titles on You Tube, which contain a lot of the Unique catwalk influences (I was completely terrified by this programme as a child!) The styling reflected the trend effortlessly with wild monobrows, crazy dishevelled hair and glistening "moist-look" skin. This Topshop podcast shows how the space was transformed and discusses the "twisted Narnia" theme and how it was created.
I love how every piece was wearable. Faux furs (thank goodness….more on fur later!) thick cable knit tights, phenomenal shoes. My pictures hopefully paint a better picture – see my Flickr set for a better visual treat. There's also a little finale video to show the whole collection. I know many people have questioned Topshop's inclusion on the main schedule, mainly due to their design "team," as opposed to an individual creator. I think this cohesive, wearable, yet innovative collection should silence the critics. Putting all these elements together, explains why Topshop Unique stood out for me. The venue + clothes + theme = a sheer, refreshing delight. I also could see myself in many of the clothes and hopefully, with Topshop's pricing, will actually be able to purchase some.
*All photos belong to me or were taken from the Topshop Inside-Out Blog.