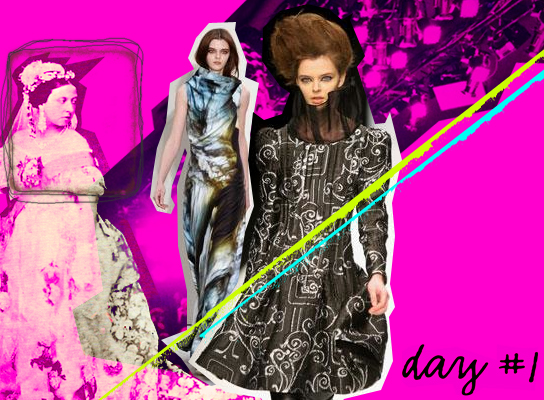 London Fashion Week began in earnest today. This was my first "proper" fashion week and to be honest, I had NO idea what to expect. My main preoccupations prior to shows:
1. I wouldn't fit in
2. No-one would want to talk to me
3. I would break my ankle
Regarding the first two points, I couldn't have been more wrong. The 3rd hasn't yet happened but tomorrow's another day for this clumsy blogger fool!
Here is the abridged version of today's events. I have videos, polaroids and pictures to come when more detail will be added. I am going to wait to be out of the confines for my Easy-Hotel/Orange Cell to do all my uploading!
1. Paul Costelloe – I was apprehensive. Paul is "old school," a veteran of Fashion Weeks but I was VERY pleasantly surprised. The styling was awesome. HUGE backcombed hair, gorgeous make-up, perfect models. The clothes were a lot more fashion forward than I was expecting.
2. Maria Grachvogel – BEAUTIFUL. The setting was perfect, the Palm Court at The Waldorf. The music and atmosphere were ethereal, the clothes were all equally dreamy for me. The ONLY downside – the models were SUPER skinny, jutty out, jagged bones and all seemed very young. There was no doubt of their beauty but they stood out as being extremely slight. (Since watching the video on my return, I'm not sure if the natural light of the room enhanced these features…would bold runway light hide true size? Something to think on further)
3. David Koma – A slight disaster (this one deserves a WHOLE post to itself) I had a ticket (kindly donated by Mademoiselle Robot) but was refused entry as it was too full.
4. Bodyamr – I believed it to be a presentation but it was actually a show. Although some of the clothes weren't to my taste, every other single element was perfect. The soundtrack lunged from ferocious to floaty. The setting was elegant, yet austere and had a real church feel. The superb models walked to the end of the "catwalk" as if guided towards the heavenly light seeping in through the stained glass window. Gorgeous!
5. Jena.Theo – Amazing atmosphere, stunning styling (especially eye make-up & rolls of hair) perfect soundtrack. Some real stand out pieces; skilfully folded fabrics with voluminous elegance. There was a repeated fabric print that wasn't necessarily to my taste but the overall feel was beautiful.
6. Sass & Bide – A fluke of a show. I had no ticket but Liberty London Girl kindly introduced me to a very lovely someone and I was in, second row. Music played a huge part in this show for me; from Mozart in the introduction, to The XX's version of "You've Got The Love" The feel of the show was bold and the looks matched. Gold featured heavily; crochets, woollen shoulder-pads and jewelled embellishments all ruled the catwalk. The metallic headpieces finished each look perfectly.
The day was made for me by my fellow bloggers. Their kindness and welcome was greatly appreciated and will not be forgotten. Liberty London Girl, Mademoiselle Robot, Disney Roller Girl, Kiki's Delivery Service, Bitch Buzz, Show Me Your Wardrobe & Tales Near The Runway (phew….think I remembered them all) were the highlight of the day for me. Better than any show or item of clothing, the generosity of human spirit that they demonstrated towards me is the main thing I will take away from my first day at London Fashion Week.
(Show pictures "borrowed" from The Telegraph…if you'd like me to "unborrow" them, let me know. P.S. I gave Hilary Alexander my card just in case ;)