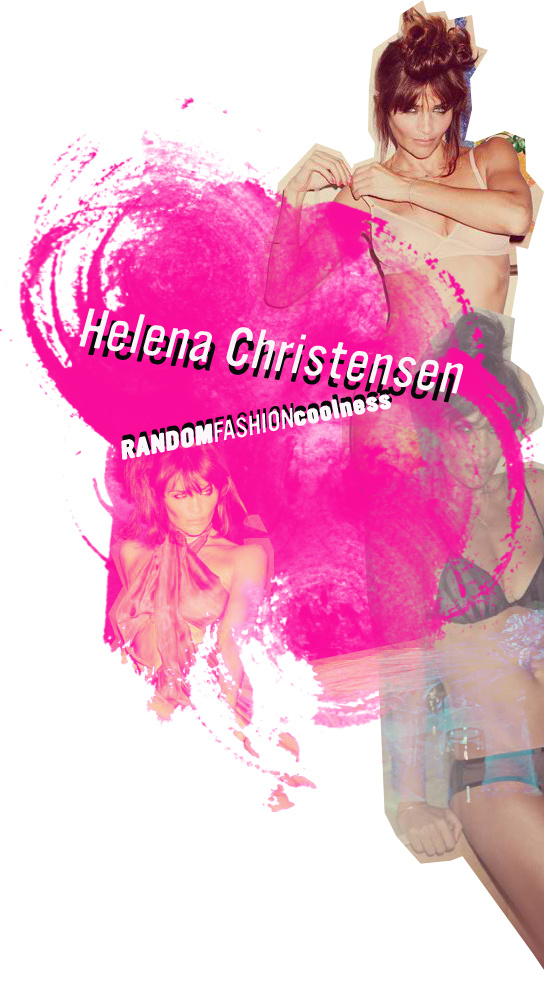 'Tis a new year and I felt the blog needed a new look for it's 5th year. Inspiration to blog has not come easily since I became a parent. My priorities have shifted so greatly that Random Fashion Coolness naturally took a back seat. So here I take tentative steps to beginning again…
I wanted to look at women who seemingly have it all. In the thick of the chaos that was my return to work, I spotted news of this project with Helena Christensen. I love her…or do I hate her…or do I hate that I love her? Clad in sheer fabrics, lingerie and the signature 70's hue of Guy Aroch, Christensen simmers effortlessly. As I read the post I was sat in a well-worn American Apparel hoodie, joggers and slipper boots by M&S. It wasn't my finest moment but only served to highlight Christensen's glory.
Alongside the genetic superiority that's quite widely recognised, Christensen's carved out a respectable career as a photographer. Aside from her work with many well-respected publications and solo exhibitions, she also blogs. Frankie Star is a collaborative project with photographer Christy Bush. The common link that brought these two creatives together is the band Interpol; Christy's husband is Sam Fogarino (drummer) and Helena's beau is Paul Banks (lead singer.) The blog is beautiful and offers an honest slice of what inspires these two inspired women.
Lest we forget, Miss. Christensen's also a Mum. I adore this recent post by Mothers' Meeting featuring a photograph of Helena's former partner and her son.


The ambiguity of my feelings towards Helena will no doubt persist especially as she continues to defy the ageing process whilst managing to be so effortlessly cool. Check out Frankie Star, Mothers' Meeting and Bloginity, for pictures of Guy Aroch's Un-Titled project.