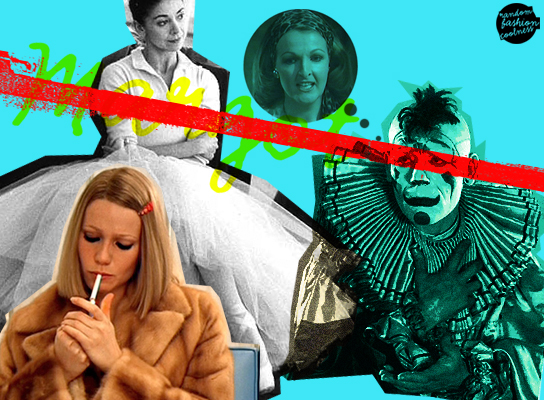 Things I have realised over the last few months:
1. Pregnancy changes everything; from general perspectives to challenges, right down to mundane tasks. Priorities inevitably change as life's already not just about you anymore.
2. Women-folk treat you COMPLETELY differently*. A bump seemingly means you are no longer a potential threat. You are a nurturer, a life giver and a reassuring presence. (*based on current treatment from previously contemptuous shop-assistants)
3. I suddenly want to be a Margot.
Let me explain number 3. Fashion during pregnancy can unavoidably become about functionality. The desire to feel comfortable is a practical one, allowing little bump to grow freely. The swaths of high-waisted, sumptuous (and fitted) camel pieces are removed from your radar. Beautifully neat buttoned-up blouses and loose shorts offer only a Pinky and Perky appeal (see here) This is not a rant or a moan, just a sheer matter of fact. I have been blessed with a comfortable, very happy, healthy pregnancy in which my stylistic approach had to change. So, back to Margot! As I enter my 9th month, I suddenly feel a huge urge to dress opulently and extravagantly, a desire I have never before felt. I usually shun the over dramatic formalities of fashion but as I sit here blogging in PJs all of the styles above, demonstrated by the various Margots, spark off a flicker of envy. I want perfect hair, heavy make-up and a 70's nonchalance that only a Margot (albeit at times a character) can achieve.
Featured Margots:
1. Mrs. Leadbetter: Champion of the British sitcom The Good Life, Margot seemingly effortlessly dressed in dramatic fashion on a daily basis. My usual go-to look is more akin to that of Margot's earthy neighbour Barbara but these final stages of pregnancy seem to have changed that. Margot Leadbetter wore kaftans and turbans, headscarves, playsuits and corsages as part of her functional wardrobe; opulently delicious.
2. Miss. Tenenbaum: Do not fear, I haven't been drawn to real furs but the uncompromising way in which Margot wears her lavish fur, coupled with charcoal stained eyes, offers a look extraordinaire. In my mind I want to expand it further, adding a slather of deep red lipstick.
3. Miss. Fonteyn: I have no aspirations to take up ballet but the inane elegance of prima ballerina Margot Fonteyn is quite infatuating. Her grace, coupled with the intricate costumes her roles required, fill the current void of refinement in my style.
So, Margot is my inspiration. Giving birth within the next few weeks will no doubt change my style muses once again as the practicalities of parenthood take full hold. But it is nice to aspire to something unobtainable, to envy ostensible perfection from afar. By next summer, who knows stylistically where my heart will be and what actual look I'll gravitate towards as a Mum. For now, this winter, it's firmly with Margot…if only in my head!