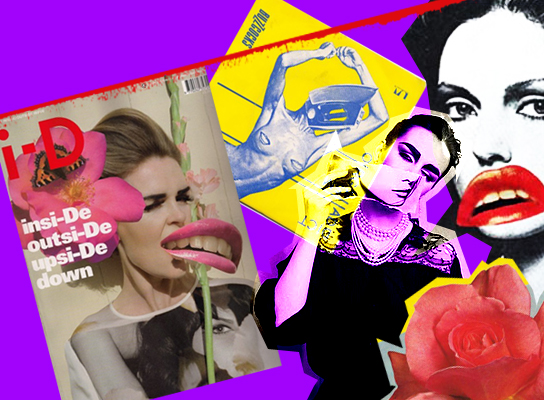 Linder Sterling is a true hero of mine. Her montage work is inspirational and of course influences my little collages (I'm too much in awe to ever use her famously bold red lips as comparisons would be a little too obvious.) The artist herself best describes her beginnings on this video for the TATE.
Miss. Sterling's work came to my attention in the seminal 303rd edition of i-D Magazine. Her collaborative work with photographer extraordinaire, Tim Walker, showed a side of her work that blew me away and put Linder in the spotlight as a model. This week, a Vice Style video featuring Alexander Fury of SHOWstudio, highlighted a covetous print from Linder's association with Richard Nicoll.  After some probing on Twitter, Mr. Fury tells me that it's a framed show ticket from Richard Nicoll's Autumn/Winter '10 collection, which unfortunately I didn't get an invite to (if anyone would like to donate their ticket, please get in touch!)
Owning an actual piece of Linder's still eludes me. I'd adore any of her designs with Nicoll (see my Net-a-Porter Chrimbo list!) but would obviously covet more a piece of her art. Linder continues to push the boundaries, again with Richard Nicoll, in their recent work for the House of Voltaire. Look closely here, yet with caution, at how boundaries are still being pushed 4 decades on. So here endeth a post filled with utter adoration and appreciation. The day a piece of Linder Sterling's work enters my humble abode, expect an even more gushing rant of excitement!