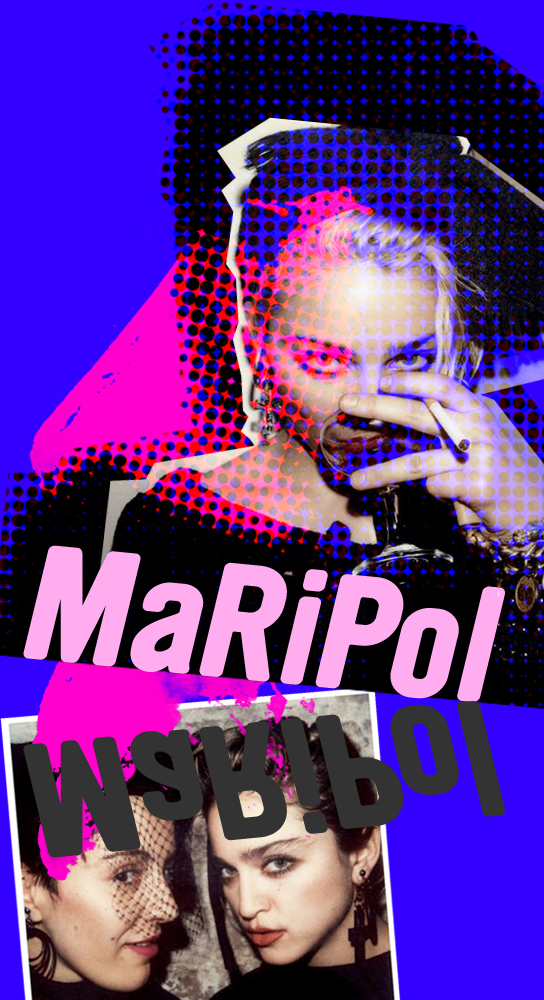 I haven't been a huge fan of Madonna for many years. The whole transformative wonderment of her career has pretty much passed me by. I'm not interested in her secret of eternal youth, her boy-toy conquests, world tours or well-toned arms. Well, I rescind that last comment, the arms are pretty cool. The Madonna I loved was the 80's incarnation. I liked the seemingly fresh faced, yet wickedly enigmatic Madonna. She was covered in black lace, doused in jewellery and in my mind, effortlessly cool. I won't lie, it saddened me to find out that this look wasn't organic and was partly the creation of French stylist Maripol.
The lovely Disney Roller Girl reminded me the other week of Maripol's work with Madonna and specifically of an article I'd saved from a few years ago. From the seemingly uncool archives of The Madonna Tribe website comes this hugely insightful interview with Maripol. I urge you to read it, especially if like me, you were a fan of 80's Madonna. I discovered that Debi Mazar (Entourage*) was Madonna's make-up artist, Steven Meisel shot her famous Like A Virgin cover at The St. Regis Hotel and my favourite fact, Maripol and Andy Warhol judged a Madonna look-a-like competition at Macy's!
Maripol's time with Madonna is synonymous with the time that I was completely enamoured with this rising star. I was on a waiting list for all her albums on cassette when they were released in Woolworths, even the Who's That Girl soundtrack! I watched the Desperately Seeking Susan video WAY too much for a girl of 10 and loved when "that" Madonna was referenced in Pulp Fiction:

I have Maripol to thank for creating the visual of the Madonna I loved. See the interview I referenced here and see Maripol's archaic, yet iconic website, (Maripolitan!) here.