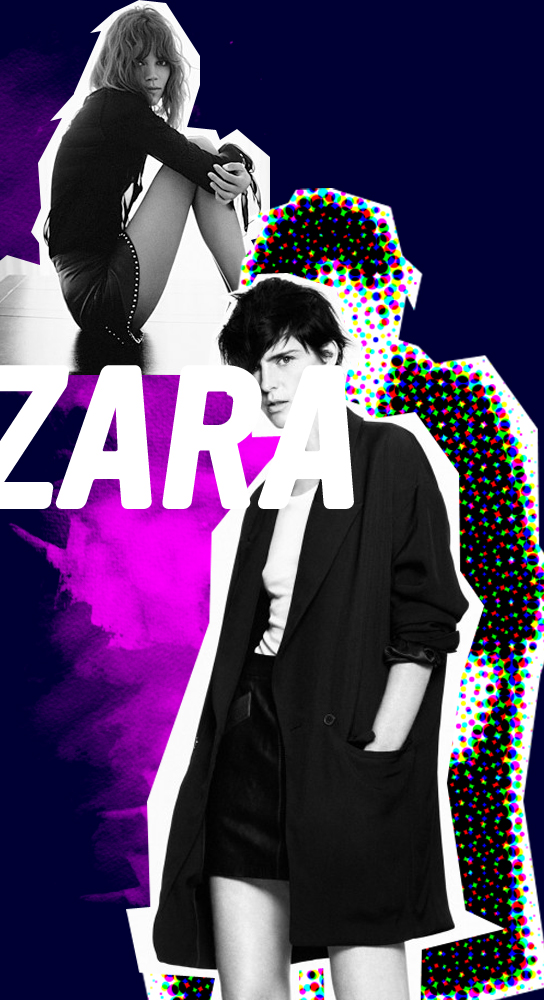 When I see people quoted as saying, "My wardrobe is a mix of designer and high street," my inner self does a weird nod and thinks, "Hmm, mine too." My inner self clearly has reality issues, as when I peruse my wardrobe, there may be one or two t-shirts that could be deemed as high end but the rest reside on hangers hailing from the likes of Topshop and Zara.  My inner self also believes that we have many charity-shop finds, vintage pieces and cool hand-me-downs from my eclectic family…as well as all the many other things that the cool people say in interviews.
Zara launched their August lookbook yesterday, clearly less mid-summer and more of a nod towards the winter months to come. Zara seems to me to utterly dominate their well-established corner of the high street. The key is that their clothes don't feel like they're mass-produced, despite obviously being so. The last time I visited Paris I went to Zara's branch on Rue St. Honoré. Hidden deep within the upper echelons of Paris' chicest boutiques, like a chameleon, it blends in perfectly. It stocks Zara's more rare pieces and only has one of each size on the rack. Everything somehow felt more expensive primarily because of the location and décor but mainly due to this clever marketing tool of limiting the amount of stock on the shop floor.
Here's a small list of the other fields in which I feel Zara have excelled.
Online delivery and returns – If your express delivery fails to join you from Madrid(!) within the stated period, your delivery charge is refunded that same day.  A free courier service collects from your home within 24 hours of your pick-up request and takes it to a local store, where they refund you as soon as they receive the parcel.
Campaigns – They bag THE best models – Freja Beha Erichsen and Cara Delevingne lead their campaigns this year, with beautifully shot online videos. Stella Tennant made me want to buy EVERYTHING a few season's ago.
Zara People! – An invite to Zara customers to send in photos of themselves wearing the current season's clothes; a selection of which are then published on Zara's website, with easy links to buy the looks. It is also a great platform for bloggers as it links directly to their blog. People! will begin accepting new submissions next month.
If it weren't for restraints like mortgages, bills, small child upkeep etc, all of my wages could easily disappear there. Instead, I've included the key pieces I currently covet (click link to go to item.) Coat with quilted leather sleeves, blazer with satin lapels, oversized knit in white. I recently purchased this white coat. SO impractical for a toddler's parent but I think that's why I love it. Now Zara, all that's left for you to do is embrace Twitter, then I think you may be perfect.