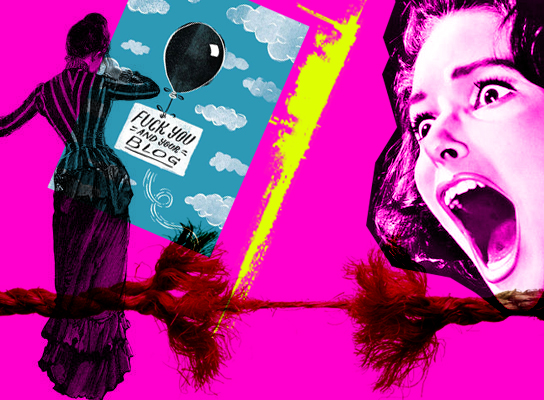 I am having a crise du blog. It is hard to put this one into words but over the last few weeks I feel I have lost my blog "mojo" (I despise that "m" word but is the only thing that adequately describes my lack of lustre towards blogging.) It started slowly, with emails asking for blog statistics and comment numbers as proof of my worth in the blogosphere. It escalated when I was asked to remove collages for infringement of copyright. Vagabondia then seemed to sum up all my thoughts, concerns and fears in this perfect, succinct post. I too do not rely on my blog as a source of income. I am and have always remained true to my personal set of blog morals; I post things I personally find interesting and accept no freebies on the promise of a gushing post. The numbers, the statistics – yes, they massage my ego but I never began the blog for that reason.
I feel as if the last few weeks have provided essential research. I have scoured the Internet looking at the many types of blog on offer. My eyes have been opened. The Internet is saturated with blogs! Some are so similar, I wonder what it is that makes them stand out or be considered unique in any way? I put myself in the place of a publicist and started to look at the number of comments and what they had to say about the blog. The quality of the comment, not the number, revealed A LOT to me. Those with intelligent readership, elicited insightful comments that paralleled the quality of the post itself and were just as enjoyable to read. Those whose posts represented a bit of filler "fluff" to me, presented equally mundane comments, albeit in a greater number. When all bloggers attend the same occasions, how can you make your version events stand out? (See an example of GREAT alternative posting here by Isabelle O'Carroll!) I also decided being a publicist doling out tickets for Fashion Week must be a minefield! The criteria upon which they base allocation must plague their souls (I personally would go with my quality theory!) Unfortunately, my research compounded my fears; with so many great blogs out there, providing such great, regular content, where did mine fit in?
So today, I bite the bullet. I am writing and have a host of other things to tell you about lined up. I shall leave my Outsider post below sans collage, as a reminder of my mini-crisis! So here goes…
P.S. The novelty journal pictured above is available from Maiden – a great ironic gift for any blogger!