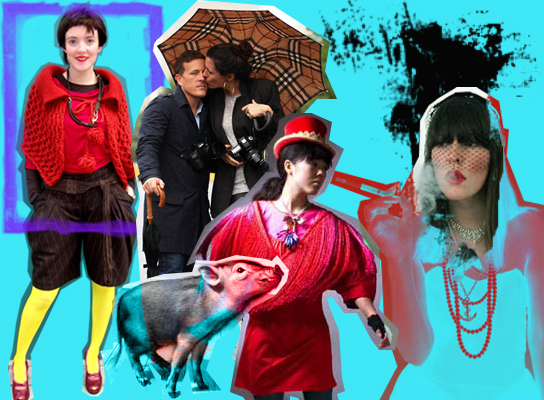 The phenomenon that is blogging is everywhere. Disney Roller Girl and I were discussing just the other week how difficult it is in to maintain your integrity in a fashion industry that is almost fully embracing the power of the blogger (I think she's posted about that today) I mentioned to her the better part of me, Things of Random Coolness. He runs a beautiful blog and was the inspiration behind my initial venture into the world of blogging 3 years ago. Inspiration = He secretly began his blog and I stumbled across it one day and asked him what he was doing. I then had a childish, stamp-feet tantrum about the secrecy and moaned, "I want to do that too!" Random Fashion Coolness was born!
Anywhoo back to the point in hand! He endeavours to maintain integrity through his blog. He never posts for the sake of posting or because someone sends him a "gift." That might mean no posts for a month but at least he knows that everything he blogs means something to him. I was thinking of his influence on my blog. He calls me out on things he dislikes, helps me "screen" invites etc. I do not always welcome the criticism or heed his advice and it is annoying that 9/10 times he's right!
There are lots of blogger partnerships out there that make their work all the more endearing for me. The most famous blogging couple du jour has to be Garance Doré and The Sartorialist, Scott Shuman. If you look at their blogs, I really feel you can perceive a noticeable shift in direction and style once they became a couple (maybe less so in Scott's work, where commentary is minimal) Another favourite blogger partnership comes in the form of What Katie Wore. Joe, her boyfriend, is the photographer and blogger, Katie his fashion muse. Each day Joe posts a picture of Katie's phenomenal ensemble and a comment, giving a little insight to their daily lives together. Susie's Style Bubble and Steve's Style Salvage blogs share their home's balcony for displaying their newest ensemble look.
These musings on blogger partnerships led me to think of the wonderful Agathe of Styles Bytes. She was an original blogging phenomenon. I was an avid reader of her blog and marvelled as she posted about her forthcoming nuptials to Kristoffer of Trashion. Their life and relationship played out through the blog and we as readers were voyeurs to their beautiful bubble. The simplicity of their ceremony and her dress inspired my own wedding day. Then suddenly, one day in April 2008, Agathe headed to Stockholm and Style Bytes was no more. The demise of their relationship in some way lead to the end of Agathe's musings on fashion and the beginning of a new chapter in her life. Kristoffer's blog now seems to be run by a Scottish lass!!! I also miss the gorgeous Molvin, their indoor pet pig – I used to LONG for posts about him!
I'm interested to see if there are any other blogging partnerships out there and how your accomplice contributes to what you create.  Things of Random Coolness is a very private person; you will not find much information about him on here (and certainly NO photos!) If you blog together, how much information do you choose to reveal about yourselves? Fill in my contact form or comment on this post (adding your sites), as I'd like to see how many blogging couples are out there for a little article….