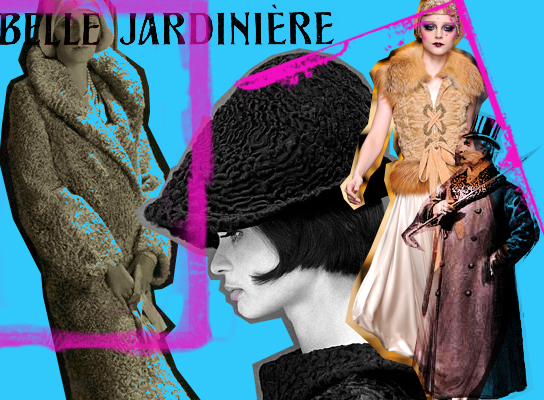 Today was a day of randomness and weirdness. It began quietly and ended in a Twitter frenzy and some business about Right Said Fred and Mel B (don't ask!!) I have been on a mission to find a stylish, quirky and unique (a tall order) winter coat for some time now. It seems everyone I know did the sensible thing and purchased their coat in June, while the UK was in the midst of "Summer." They then had the opportunity to wear it all the way through July and August and now are smug as I struggle to find "mine." I didn't know moths in the noughties still did this, but they chose to eat my winter coats this summer. When I went into the attic, there were cool little holes running all the way down the sleeves (they seemed cool in August….way less cool as we head for November!) Anywhhoooo, back to matter in hand.  This article in The Guardian today mentioned someone with an astrakhan collared vintage coat. I'm a wordy person and had never heard of "astrakhan" (also known as karakul) before, so looked it up. Firstly I discovered a Belle Jardinière vintage poster, in which all the men wore astrakhan collared coats. On flicking through more recent articles, horror ensued. A 2005 Times' article reads;
The wool of the karakul lamb — most are black — is so soft and curly that it resembles crushed velvet.
Animal rights groups claim some furriers are not even willing to wait for the ewes to give birth. They have collected evidence that sheep have their throats cut so the unborn foetuses can be cut from their wombs. These have the softest, most valuable fleeces.
On further investigation, spurred on by equally shocked Twitterer @JamieLawRoberts, I discovered that whether or not the foetal removal process is true, the lambs are usually slaughtered aged just 3 days, in order to "harvest" the softest pelts. This Humane Society article sheds more light on the horrendous process. The most worrying discovery today was the sheer amount of astrakhan used in the fall/winter '09 collections. Many fashion houses chose to reuse this unusal fur that last courted fashion controversy in 2005….but this year, for some reason, its use hasn't been so widely reported. I am not a huge animal rights activist, I don't usually scorn designers for their use of materials but I do draw the line at this. We implore people to be more conscious of their clothing's origin; programmes are dedicated to exposing sweat-shops and illegal working practices, so how is this not more widely reported? The only one explanation I can consider for its popularity is the misconception that it is simply wool, something it most definitely is not. Prior to today, I could claim ignorance of this issue, laughing at the silly Russian hats; hopefully today you will feel informed of an inhumane practice, that we can hopefully one day prevent.