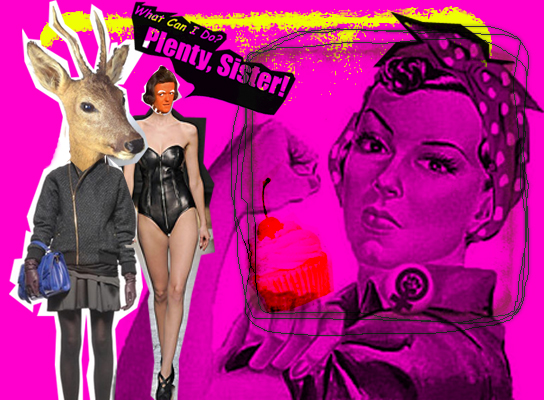 Several recent incidents or articles have left me mulling over what to write in this post for a few weeks. What actually spurred me to finally post it was this conversation,
"That is SICK but in a good way. That is sooooo sick but in a bad way." This intellectual exchange was the treat that lay in store for me once my iPod died on the way home from Manchester a few weeks ago (damn you Apple; I LOVE you but hate your limited battery life!) Two twenty-something university students were sitting discussing the specimens on offer in OK Magazine. Their hair was ironed to within an inch of its life. Foundation was caked on in cement style proportions. UGGs were donned, jeggings were worn. I have no issue with these superficial details but I do take umbrage with their conversation, which continued in such a manner for 3 hours. Every aspect of it revolved around the trivialities of what, by some, is perceived to be feminine; fake tan, make-up, waxing, Cheryl's hair, I could go on and on….but I wish not to relive the torturous banter suffered by my fair ears.
I so happened to be reading an article on Sexism in last month's Elle at the same time spurring me on to debate, who is today's feminist? Most teenagers I know idolise Cheryl Cole to an unhealthy extreme. She has finally taken action and left her adulterous husband; could this be seen as a positive step for feminism? None of us actually know the truth of their relationship woes, therefore can we judge anything about the soon to be former Mrs. Cole? If you read the Daily Mail, 90% (their favourite statistic) of teenage girls aspire only to be a WAG. I know many who perceive this a positive element of feminism in the new decade as these women are finally taking control and going after exactly what they want.
Fashion is an industry in which many strong women reign supreme, but would they earn the same level of respect in any other industry? Are they where they are because of their inherent male traits that they overtly demonstrate to emphasise their power?
This issue is HUGE and not one that can be debated in a single post. For me the feminist of the new decade doesn't burn her bra or demonstrate with placards in the street. They act subtly and with integrity to gain and earn respect in whichever field they work or sphere of society they inhabit. They seek independence and self-improvement, regardless of what others around them achieve. It's not about competition but a desire to progress for one's self as opposed to pleasing someone else.
The Terry Richardson saga has recently played out in the press. His methodology in gaining overtly sexualised images has been called into question, as many models come forward with their tales of exploitation in his hands (quite literally at times.) Some of the stories I read left me sick to the pit of my stomach. Were they tales of a step backward on the feminist trail? In my mind yes. I was then forced to ask myself why only a small minority of models have come forward with their accusations? Is it because the others are the new true feminists of our time? Are they harnessing their sexuality to gain exactly what they want? To witness the number of females that offered themselves up for American Apparel's Best Bottom in the World competition was evidence enough of people taking ownership of their own gender dominance. No-one forced them to offer up pictures of their derriere, no-one offered them obscene amounts of money – the recognition of their rear's prowess and some A&A goodies were all that was at stake.
I'm really interested to know what your thoughts are on this matter. Who is the feminist of today for you? Are there any females you admire, look up to and would hold in high esteem to anyone that asked? I am left confused and worried and no clearer on who she is.