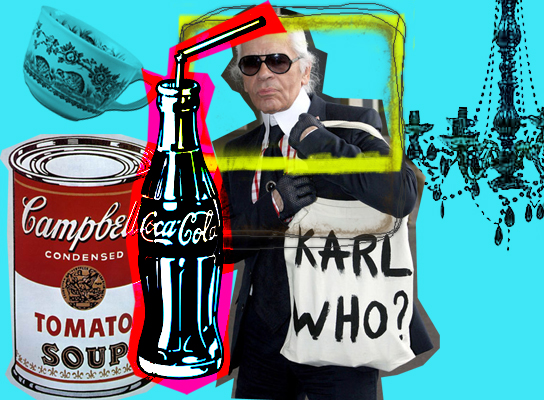 Today I was forced to ask myself the question, is anything actually original anymore? Trends, seasons, styles, transcend the decades and eventually come full circle with a contemporary spin. The reason I was forced to face this myself – A genuinely lovely fellow human being that I met & showed my blog has created something extremely "similar" herself. At first I thought the comparisons were all in my mind, me being prissy & egotistical over my work. Then, others started to email me having noticed the similarities. Should I be outraged? Should I be offended…or should I just feel flattered that this person was inspired by me? It's a tough one. I do not own the copywrite to my collages, I cannot stop anyone rewriting what I have already written but is there a metaphorical ethical line that shouldn't be crossed? Somewhere along the line, someone else's work must have influenced me to take the creative path I have taken.
ASOS & Topshop have both come under fire on Twitter this week for being very "inspired" by other's work. Both were guilty of producing accessory pieces that were extremely similar, boardering on identitical, to the original designer's pieces. I then had to ask myself where the line is drawn on similarities to catwalk pieces. In an industry where the turn around from catwalk to high street is becoming ever rapider, do the designers take umbridge? Did the creative team at Balmain bombard Zara with emails of complaint at the production of their sequined shouldered blazers?
I think therein may lie the difference. The large fashion houses work on a basis of exclusivity; not everyone can afford their original pieces. The Zara, Topshop and High Street pieces are sufficiently different enough not to upset them & function in the role of an homage to the designer. It also offers a surge of welcome publicity as magazines, blogs & the like, highlight the similarities offering features such as "skinted or minted" etc. the affordable vs the designer. Another difference I hope, lies in the quality of the designer pieces. Colin McDowell has mused on the importance of tailoring & fit this week. The High Street pieces are made to be seasonal, throw away almost; following & embracing the trend momentarily.
I finish the post asking where is the line drawn? When does influence turn into copying, inspiration into a complete rip-off? Who knows? All I know is my initial irritation has subsided. There is nothing I can do to stop others imitating my work. All I can do is try to maintain my integrity and keep blogging in my own erratic style!