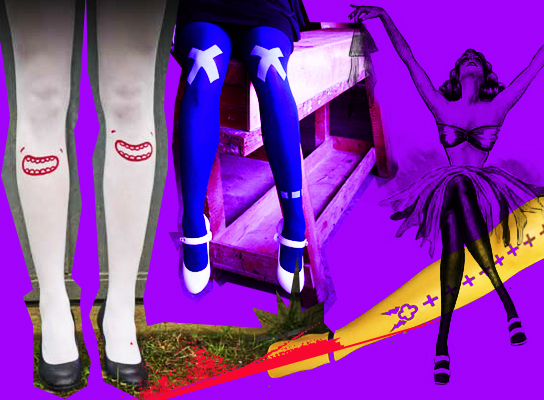 I can gauge when my style has taken a definitive line by the actions and reactions of my beautiful grandmother. She went off on a coach-jaunt with her O.A.P. groupies before Christmas and came back with a rainbow fan of tights for me. This gave me great happiness and told me two things. 1. My Gran in her 90th year was still as alert and crazy as she has always been in the other 89 and 2. I was obviously wearing A LOT of coloured tights, so much so that she had noticed.
Tights have definitely seen a huge resurgence in the last few years. Henry Holland's collaboration with Pretty Polly has been a triumph, Topshop's immense, towering wall of coloured hosiery is physical evidence of the enduring trend. My Gran's sweet gift sent me on a mission to see what else, tights wise, was on offer. Les Queues de Sardines jumped out at me (well, at Things of Random Coolness who then told me!) They're kitsch, they're original but most importantly they are fun. The reason I decided to write this post today coincides with the beginning of the Awards ceremony circuit in the U.S. The Golden Globes last night showed glamour, elegance but very little fun. For me personally, fashion should be fun, a little quirky and different. In the face of conservatism of the Globes, the Queues de Sardines tights just seemed beautifully juxtaposed with the safer, perfectionism of the gowns.
I have one concern with "higher" end tights. I am clumsy and these move into the €50 realm. I will inevitably ladder or rip them within at least 5 minutes of wearing, so there's potential for extreme disappointment – I'd have to work the ripped imperfections! My words will not speak as much about these beauties as the pictures; browse the website here and see if you can spot some that would be perfect for you. Go ahead, have some fun and give your Granma something to talk about.