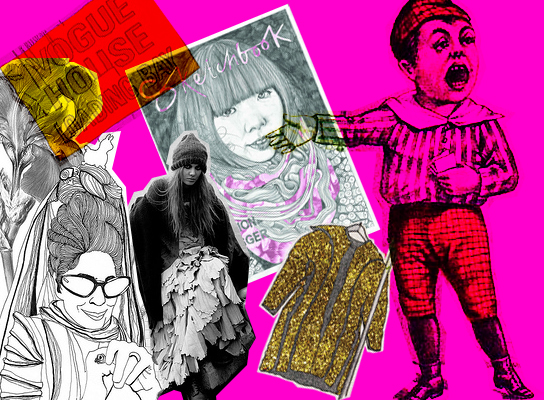 New magazines come, new magazines go but some just have that certain "je ne sais quoi" that makes me think they'll achieve longevity in such a fickle industry. Sketchbook magazine has launched its Fashion Blogger Issue that fully embraces the new direction of the industry. An homage to the current blogger du jour, Susie Bubble, the magazine showcases emerging talent in the form of illustrators, stylists, photographers…the list goes on and on. What I like about it is the non-conformist, eclectic nature of its layout. There is no standardised form or preconceived uniformity that must be adhered to – each page is unique and a true reflection of its content. So, gushing over! Take a look at Sketchbook's blog and website and purchase online here for the full sensory treat.
Sketchbook Update! Read my interview with the Editor-in-chief!

RFC: How did your little group of contributors get together?
Sketchbook: I pulled in a vast number of my friends/colleagues from my last 5 years as a student and a lot of my peers from the fashion industry came onboard. I also put up adds on networking sites and got such an overwhelming amount of CV's/Cover letters/emails about people who liked the sound of Sketchbook and thought its mission statement was refreshing. I found that when I met up with the designers/illustrators etc they shared my passion for bringing the art of the drawing back! But we are by no means little – we have a vast number of contributors for our first issue – more than 150 to be exact. We also have a network of about 200 working on different aspects of Sketchbook/The TV show/The Shop.
RFC: Was it difficult to get funding in such a difficult economic climate?
Sketchbook: Not at all, I think Sketchbook Magazine had a massive budget of hard work/teamwork/love for the production of the project. Sketchbook was born with a minimal budget – everyone involved is contributing their ideas and work across and others like the idea of being part of the Sketchbook family and network.
That just goes to show you nothing should stand in the way of making things happen and chasing your passions. You must go into problem-solving mode and make it work no matter what the climate is. Everyone told me it wasn't possible to start a magazine in London during the recession, that I had to study magazine design, that it was so expensive, that print magazine were on their way to the grave but it's here, born at the peak of the recession and doing so well!
RFC: How did you decide on the Blogger focus for the new issue?
Sketchbook: I am an obsessive compulsive blogger reader- I read Style Bubble's blog 3 years ago when she first came out and have managed to log in to see what she was up too almost every day since then and have been hooked ever since. My blog roll has more than 300 bloggers in it and I have established an emotional relationship with bloggers who make fashion more personal and interpret it in their own way. In the last few years I have met so many people who shared my love for blogging and for bloggers like The Sart, Facehunter, Jak and Jil, Garance Dore, and Tavi. I tend to crazy search for blogger news/updates/interviews in print magazine and other forms of digitial media so I thought to myself if I would buy a magazine because it had an interview with Susie in it – I'm sure others would too. I also thought it would be a great idea to create/draw up the bloggers in the way that I might see them or someone else would using a illustration/drawing as a medium. It adds more of an exciting perspective to a subject than a photograph.
RFC: Was it easy to find contributors?
Sketchbook: It was, in a sense that I bookmarked hundreds of illustrators in the last year or so, so all I had to do was drop them emails. The rest of the contributors came my way via friends and colleagues, so it was through word of mouth and networking sites that people got in touch with me and wanted to work on Sketchbook.
RFC: Many magazines are now moving into an online only format, was that ever a consideration for you?
Sketchbook: Sketchbook originally was going to be an online magazine but due to demand of having it on print I had to do some research and found a company that could distribute and print my magazine for all the contributors and readers who wanted to purchase it in print. I am still considering launching an edition of Sketchbook Magazine as an online read. I think that both formats (online and digital) provide a different taste to publishing and media. I personally still buy loads of magazine every month and I look forward to turning the pages. I spend more time with my print magazine and they join me on my tube trips and travels, but I do like my blog rolls late into the night when I'm done with a long day's work. I still think that there will always be a place in the market for print magazines.
RFC: What plans do you have for future issues of the magazine?
Sketchbook: For now the print magazine will be a quarterly one as that time frame allows me the freedom to work on other Sketchbook Projects, like Sketchbbook TV, the Sketchbook Shop, and a new design agency I am launching called Obai and Bash. The Sketchbook blog is alive and kicking with daily blog posts from all corners of the world and I enjoy commissioning writers to interview designers and illustrators to sketch for us. The Sketchbook studio is a vibrant space to be in with plenty of food and laughter and I tend to keep it that way.
I am still liaising with stockists and printers about getting Sketchbook into bookstores by the start of the summer of 2010 so we'll see how it all goes for now. But you never know what Sketchbook might be in a few years time; it could turn into a radio show or a live experiment; I am just having fun with it and pushing it to its limit.