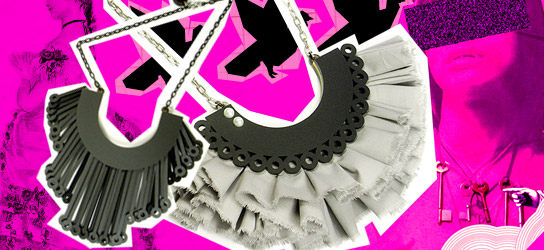 I think you can tell a lot about a business or organisation through their ethos or tag line…Vice and Vanity's,
"We make vice things for vain souls. Baubles with soul…a possible beast? Ponder in the mirror."
MMmmm…ponder I shall. My relationship with the fashion industry does hit ambiguous times; I love everything about clothes and trinkets, how they can express individuality, boost self-esteem AND then hate the pressure the industry can put upon us, to always look cool, to conform to a certain body shape/image (oh the ambivalence of fashion!) Vice and Vanity produce some very interesting pieces some of my favourites are showcased above. I adore jewellery than is multi-functional – Vice and Vanity offer us necklace-collars, brooch-buttons, therefore something more for your money. Take a peek and the website and let your vices take hold, with no restraint necessary.